December 15 to 21, 2003
< Prev Post
Permalink
Next Post >
"Goodbye Sunshine"
Multiple studies have confirmed that there is at least 10% less sunlight striking the Earth than 30 years ago. A special session on "global dimming" is being formed for the next joint meeting of the U.S./Canadian geophysical societies:
Your Vote's In Safe Hands (not):

At least five convicted felons secured management positions at Diebold, the maker of those electronic voting machines. One of them is a programmer who was jailed for falsifying computer records...
Like Sex? Don't Live In Texas:

A Texas housewife is busted for selling a vibrator... she faces up to a year in jail and a $4,000 fine:

A good interview with the somewhat recently busted Tommy Chong, from Taft Correctional Institution:
The first federal law regulating spam was passed, but it may do more harm than good:
Spammers can do what terrorists can't - military hardware turned into spamming machine: Thanks to the US Navy choosing Microsoft as their official operating system for vessels, a hacked Microsoft Exchange server aboard a 25,000-ton military support ship has turned it into source of spam from China: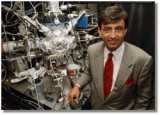 Nanoscale fibers smaller than the wavelengths of light have been developed - see the picture of one winding around a human hair!
Sony has developed the first autonomous running robot:
The anatomy of a Hawaiian high-tech news item This year, a UH-Manoa researcher working with international collaborators discovered a new unknown subatomic particle, called X(3872):
Big news, huh? Here's how it got around:


August 12: First reported at an international symposium at Fermilab.
August 18: Reported in the Honolulu Advertiser by Jan TenBruggencate, the Advertiser Science Writer.
October 8: Reported at an international workshop in Wisconsin.
November 21: Published in the prestigious Physical Review Letters.
Late November: Item is picked up internationally (BBC, CNN).
December 2: Appears in UH News, the main press outlet of the University.
December 21: Reported in the Star-Bulletin.


Lessons learned: UH and the Star-Bulletin need to get their science/high-tech reporting act together. This item was featured in dozens of international publications before locals got wind of it... unless you were reading the Advertiser. Kudos to them for keeping a diligent science reporter on staff.
< Prev Post
Permalink
Next Post >