February 9 to 15, 2004
< Prev Post
Permalink
Next Post >
For Valentine's Day, another fascinating "science and love" article - "Scientists are finding that, after all, love really is down to a chemical addiction between people":

The SPAMmobile hits Hawaii for the first time: "It's like God has landed on the earth," a local man said, shaking my hand, taking in the glory of the SPAMmobile. "I promised myself I wouldn't cry."
"Land sale shutters city's vision of urban renewal"
The sad story of a once-historic downtown area that is planned to be an auto dealership due to the city's current budget shortfall:
(from Jan 3) Now that Oahu only has two art-house movie venues (with one whose fate is uncertain), will people be able to see movies like the ones below in the future? Or will we have to download them?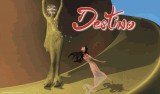 Pictures and information about Destino, the lost 50 year-old animated collaboration between Disney and Salvador Dali. It's been nominated for an Oscar:
Robot Stories

A movie with four vignettes that explore what it means to be human in a world where robots are commonplace. It won the "Special Jury Award for Emotional Truth" at the Florida Film Festival as well as over 20 other festival awards. And it's received glowing reviews in all the cool magazines:

"Drink Honu Beer - and save a turtle, too"
20% of this beer's profits go to the non-profit World Turtle Trust, which is currently financing four international projects. I tried it recently and it's very good (and I am a beer snob):
Borneo Forest Faces Extinction
"Illegal logging is destroying the equatorial rain forests of Indonesian Borneo, bringing the island, once known as the lungs of Asia, to the brink of an ecological disaster."
A Swedish company has developed an environmentally friendly way to dispose of (and recycle) bodies. This is as opposed to the current methods, whose byproducts are polluting incinerators, toxic enbalming fluids, and long multi-year decomposition times:
Peak Oil

There was a little buzz around the net last week regarding "peak oil". The term refers to the point at which worldwide oil production will peak, which is currently predicted to happen in 2015. Jon Thompson, the president of ExxonMobil Exploration Company, says "In other words, by 2015, we will need to find, develop and produce a volume of new oil and gas that is equal to eight out of every 10 barrels being produced today".
Can technology save us from the future oil crash? "Researchers say they have produced hydrogen from ethanol in a prototype reactor small enough and efficient enough to heat small homes and power cars":
< Prev Post
Permalink
Next Post >