January 26 to February 1, 2004
< Prev Post
Permalink
Next Post >
Well, the last week has been short on news, due to my being stuck in California at a crappy hotel - Crowne Plaza - the toilet's broken, the hot/cold faucets are reversed, the vending machine doesn't work, and worst of all there is no network access outside of a broken (unconfigured) Lucent wireless access point in the lobby which I would mess around with if I had the time. Anyway...


Gung Hay Fat Choy!

Another groovy 360-degree panaroma, this one of Chinese New Year's in New York: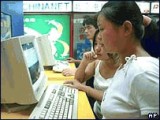 China Tightens Web Control
"There has been a dramatic rise in the number of people detained or sentenced for internet-related offences in China, according to the London-based rights group Amnesty International":
"UH to host world conference on future of Internet"
The real story here is not that Hawaii is hosting the most prominent (international) conference on next-generation Internet technology - it's the fact that due to strict "anti-terrorist" policies, many international members were barred from attending and so the conference series will now be moving to Canada. Is this the start of a trend?
Yet another serious flaw in Microsoft software that may not even be fixable:
News on "The Corporation" - which analyzes the institution known as the corporation as if it were the person that it legally is. The analysis? It "fully meets the diagnostic criteria of a psychopath":
"Stress Epidemic Strikes American Forces In Iraq":
"Philips unit unveils "rollable" displays":
"The New Face of the Silicon Age - How India became the capital of the computing revolution"
One of the best articles so far on the rise of India re: high-tech "outsourcing":
"Wireless Cable TV In The Works":
You may have read the articles I mentioned about the rise of "cyberbullies" in school - well, it's gone international:
"Scientist Create New Form of Matter":
< Prev Post
Permalink
Next Post >